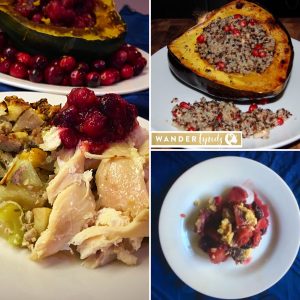 I've been cooking Thanksgiving for my family for almost 10 years now. It's one of my favorite holidays to cook for and I look forward to it all year long. However, this year I happen to be 3 weeks into my Whole30 and some of those traditional recipes arent going to make the cut. 😉
If you're looking for some healthier versions of your favorite foods, check out some of these links below.
Acorn Stuffing - Vegan, Gluten Free
Whole30 Stuffing - Whole30, Paleo
Cranberry Sauce - Whole30, Paleo
Warm Fruit Compote - Whole30, Paleo and Vegan
Some other simple swaps you can do to for a healthier meal are:
- For Mashed Potatoes sub half the potatoes in your recipe for mashed cauliflower.
- For your green bean casserole, cut out some of the sodium and calories from the condensed mushroom soup by making your own! Saute chopped onions and mushrooms and combine with a cup of unsweetened canned coconut milk. Add salt and pepper to taste. Bonus: This will also make it Whole30, Paleo and Vegan!
- Skip the gravy. What?! No gravy on Thanksgiving?! I know it may sound crazy, but of all things Thanksgiving its on the bottom of my list of foods that I must have. Also, when you have gravy your more likely to go for extra rolls to dip in it.