Getting Back on Track
After the Holiday Weekend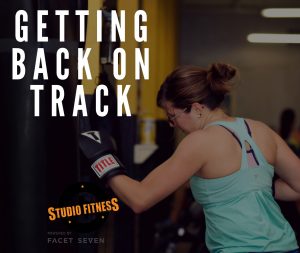 Thanksgiving is over and if you're like most people, you ate way too much of the foods you don't normally eat. Indulging in rich, calorie-dense foods from time to time won't really set you back any; and in fact, if you're highly active, an occasional cheat meal can be good for your metabolism and hormones. It's only when you prolong the cheating into several days that it begins to impact your fitness and weight-loss goals. So, after you've slid into a pattern of unhealthy eating during the holiday weekend, how do you get yourself back on track?
First, remind yourself of your goals. Take a moment to stop, look at yourself in the mirror and tell yourself you've come too far and worked too hard to drift back into your old habits. Second, discard any leftovers that aren't on your normal diet. Keep as much turkey breast as you want, but throw away that pumpkin pie! It's better to let it go to waste than to let it go to your waist, right? Lastly, do one of your favorite workouts and follow it with one of your favorite healthy meals. The release of endorphins from exercise and positive reinforcement that comes from eating foods that you know are good for you will restore your mindset and determination.
You CAN do this! Remember you were doing it just a few days ago. Furthermore, it's only food; they're not gonna stop making it and in fact, more holiday meals are just a few weeks away. You'll feel much better about letting yourself cheat again then if you get yourself back on track now!
- Jose Madrigal, Facet Seven Owner & Trainer