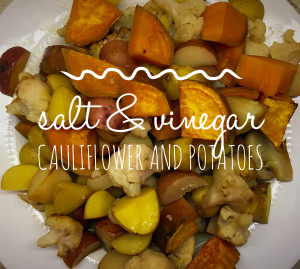 I saw this recipe for Salt and Vinegar Potatoes the other day that sounded amazing, but I needed a way to make it Keto for my husband. I tried the same recipe, but combined potatoes and cauliflower. I could eat the potatoes which were Whole30 and he could eat the low carb cauliflower. This is the easiest side dish to make, you just need a little time to plan ahead.
Ingredients:
1 head of cauliflower - largely diced (If you want potatoes you can also add a few quartered red potatoes or one large diced sweet potato)
1 cup white vinegar
2 tablespoons olive oil
2 tablespoons green onions chopped
kosher salt to taste
Directions:
Preheat oven to 350 degrees.
Place cauliflower in a large glass baking dish. Pour over olive oil and vinegar, then cover with water until the cauliflower is just barely covered. Sprinkle with salt and place in oven.
Cook uncovered until all the liquid is evaporated, about 2.5 hours.
Remove from oven, sprinkle with green onions and serve!
- Bea Chess
Founder of Bea Connected